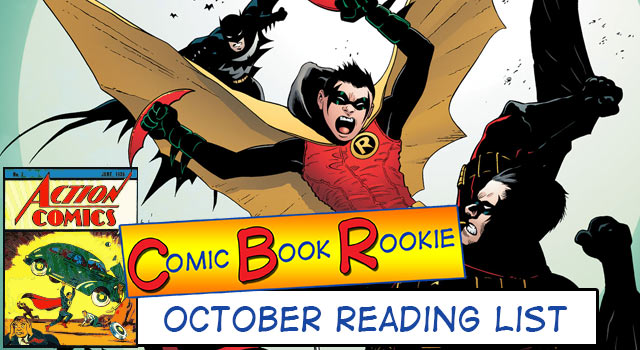 Welcome back to another month of Comic Book Rookie month in review. This month has been exciting for a few reasons; starting with lots of news on future titles, including a new Captain America: Winter Soldier mini-series coming out in early 2014 shortly before the new movie.
We usually bring you this column the last Friday of the month but I wanted to wait for one particular title that came out yesterday, so let's get right to it.
DC launched issue 1 of 4 on a new title, Damien: Son of Batman. The character of Robin hasn't exactly had the best of luck in the Batman world, but this version of Robin finally sees some of the spotlight. That's probably because this Robin is Damien Wayne, the hot headed and sometimes volatile son of Bruce Wayne and Talia al Ghul, but we'll take what we can get. What was most interesting about this title was that DC killed off another Robin, Damien himself, just a few months ago in the Death in the Family cross-over. In fact, they killed off two depending on what title you read. Damien was killed by his mother's henchmen in Batman Incorporated, while Damien accidentally killed the original Robin and current Nightwing, Dick Grayson, in the Injustice: Gods Among Us title.
Damien: Son of Batman picks up when he and Batman are out investigating a crime and one of the Joker's bombs goes off and seemingly kills Batman. Damien, who blames himself, turns to his mother, grandfather, and their League of Assassins for help. As you can expect, feeling betrayed they turn him away leaving Damien to start out on a crusade of his own against the criminals of Gotham City without the guidance of his father. Or does he? Bum-bum-bahhh!

The title I was most looking forward too was Velvet by Image. The new comic was written by Ed Brubaker, who previously was part of the team who wrote the great series Gotham Central. He was also responsible for Marvel's Captain America: Winter Soldier, and you might have heard about a movie based off this title coming out in April. Velvet is a Cold War-era spy thriller based around Velvet Templeton, a Miss Moneypenny type of assistant at an intelligence agency. When the world's top agent is killed, Velvet finds herself in the field again for the first time in 20 years and she's caught up in a murder mystery. The extra-long first issue did not disappoint, even with all the hype leading up to it. My first take is that it looks to be another new title to add to your pull-list each month.

Finally this month we have The Walking Dead in issue 1 of the 12 issue "All Out War." I have to admit, with all the build-up over the last few months, I was really disappointed in the issue. There was just more set-up to the rest of the story in this issue. I had really hoped for some excitement after all the lead-in material, and especially since the TV version is once again developing very slowly this season. Oh, did I mention that we've barely seen any zombies at all the last few issues of The Walking Dead? Because we haven't. The good news is there will be bi-weekly issues in November and January through April, so there are still plenty of chances ahead to ramp up the action.
Stay tuned next month when we will be reviewing Harley Quinn #0. That's right, Mr J's gal pal and former shrink is getting her own starring title.
Thanks for reading, and we'll see you next month! Feel free to check out our past issues here:
May - June - July - August - September