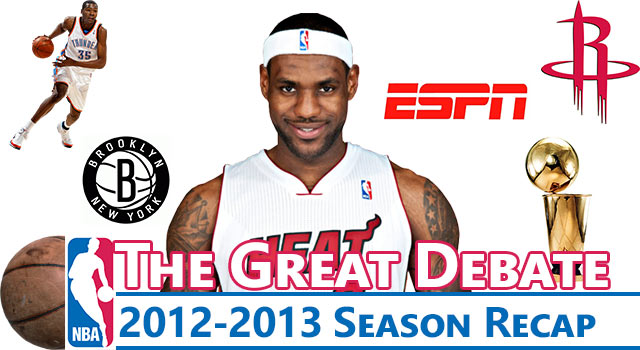 This is a recurring NBA conversation covering current events, history, and views, all from Matt Truck (@BroTruck) and Dan Quarterly (@DanQuarterly).
The shot clock has reached zero on the 2012-2013 NBA Season, let's see what our experts have to say on it.
Matt Truck: I still can't believe basketball is over, but I'm healing. Summer league will do that, with my favorite two moments being Reggie Jackson taking over a game in Orlando for the Thunder (NBA Jam style), and the serious tip slam and subsequent transition three from Ben McLemore in Vegas.
To head in to the several month hiatus of these basketball articles, let's throw out 24 statements about the season that was, the offseason that is, and the 2013-2014 season to come. Allocation of statement volume is up to you, and nothing should require more than a sentence or two of explanation.
I'll kick it off with my twelve and get the offense going, then I'll kick it to you to bring us home.
(24) Absent bringing in a big, Miami's three-peat effort will be a challenge. In order to three-peat, they're going to have to play three of the following squads: Pacers, Bulls, Nets, Rockets, Grizzlies, Spurs, and Thunder. With the best player in the world, though, don't count them out.
(23) LeBron "legacy" talk is already wearing on me. Enough already, let's just enjoy what we're watching
(22) The Houston Rockets' title chances accelerated in a hurry with the Howard signing. This is less about Howard's so-so offense on the block, and more about his defensive presence bringing an identity where there was one lacking aside from Asik.
(21) The Clippers and Thunder should be nervous...San Antonio, Houston, and Memphis' bigs make them my three favorites in the West heading into next year.
(20) ...But don't sleep on Russell Westbrook. As long as he's playing alongside KD, the Thunder are a really tough out and will be for the years to come.
(19) Brooklyn's roster additions/subtractions are great, but it may not be enough. Aging Pierce, KG, an inexperienced coach, and a "show me" burden of proof from D. Will and Joe Johnson make for a curious cocktail.
(18) Even with Derrick Rose, the Bulls' near-term window is in jeopardy. The Pacers got a lot better this year, and their offseason addition to bolster the bench really matters. Speaking of that...
(17) My favorite under-the-radar signing of the summer so far is Chris Copeland to the Pacers. Any Knicks viewer knows the instant offense that guy brings to the table, which is something the Pacers' bench severely lacked down the stretch.
(16) Even if healthy, Kobe's Lakers will be totally irrelevant next year. It's hard to see him go out that way, and I really don't see LeBron going to LA land. This is shaping up to be an interesting period in NBA history for Laker fans. Yes the franchise has glitz and glamour, but has the Twitter era ushered in an age where location and "big markets" for media exposure has become irrelevant? Maybe Dwight Howard's shunning of the purple and gold is a new normal.
(15) Denver may have been a flash in the pan. The George Karl firing plus the loss of Iggy and Koufus make me curious about the repeatability of last year's successs (my Gallinari basketball affections aside, of course).
(14) Cleveland, assuming Bynum can play 20+ games, will make the playoffs next year. All of a sudden, your beloved Cavs have the makings of a good front-line rotation, and reliable point guard support. And don't sleep on Alonzo Gee.
(13) Chandler Parsons' role in helping land D12 is a metaphor for his career. Parsons is an under-paid, under-appreciated glue guy who seems destined to be part of a winning club, and in my top 3 favorite players in the NBA.

Bring us home Danny.
Dan Quarterly: All 12 points of yours are very well taken and, for once, I agree with you (for the most part, at least). I won't waste time on an intro - you (and the readers) know I'm already incapable of one or two sentence summaries.
(12) America finally HAD TO watch the Spurs. And it's about time that they did. We can finally put to bed any "The Spurs are boring" fallacies. Now only if those naive spectators could have seen the Spurs when Duncan could play 45 minutes and Manu Ginobili could play at all. The Spurs were and are special. Finally America is informed.
(11) Kawhi Leonard was born to play in San Antonio. He is tough as nails, does the dirty work, is capable of taking over at times, and doesn't speak. He's the embodiment of the Spurs - or Tim Duncan's little brother.
(10) The Heat have to re- I mean three-peat. The only formula I have for this is that they know how to win, have the best player in the league, and no other star is in their prime (excluding CP3 and Melo, but they aren't beating that team). Unless Durant and Westbrook lace up like 2011-12 and then some more, it's the Heat's to lose AGAIN.
(Sidenote: Watching the NBA these last three or four years has been a testament to the mid-2000s stars. Outside of the Heat and the unlikely Baby Thunder's run, the teams that are still fighting for the title have been lead by Kobe, Dirk, Paul Pierce, Kevin Garnett, Tim Duncan, Tony Parker, etc. How good were the early and mid-2000s? Those guys are all in the upper 30's and still are one Super Team away from winning a championship. I hope that we run into another group like these guys.)
(9) I honestly believe the Pacers were one non-move away from winning the East in 2013. Darren Collison for Ian Mahimi didn't make sense when it happened, and it made even less sense while watching the Eastern Conference Finals as Ian Mahimi played no role whatsoever and the Pacers had nobody that could dribble the ball. With Collison, George Hill can catch and shoot, Stephenson doesn't have to worry about catching-and-shooting, and Paul George wouldn't have to spend 42 minutes bringing the ball up the court. Oh - and the Pacers would have been six-deep instead of five.
(8) Sam Presti is not a good General Manager. He has failed with every move excluding drafting Durant and Westbrook. He traded James Harden for Jeremy Lamb, Steven Adams, and one year of Kevin Martin. And in case you don't remember, he traded a do-everything player in Jeff Green for Kendrick Perkins - AND HE PAID PERKINS $10 MILLION A YEAR!
(7) I'm anxious to watch John Wall and the Wizards this upcoming season. Washington was 5-28 without wall and 24-20 with him. Plus Brad Beal really came into his own in the second half of the season. In a bad Eastern Conference, who is to say this team couldn't be a six-seed this year?
(6) Cody Zeller to the Bobcats at #4 was one of my favorite picks. You watch, this guy will average 15 and 8 as a rookie. His game has a lot of Bosh in it. And on top of that, the Bobcats should be in position for a top 3 pick in a loaded draft next summer to pair with Zeller, MKG, and Big Al Jefferson.
(5) The race for the top three draft slots should be just as fun as the race for the Larry O'Brien Trophy. I don't this this draft can disappoint. It's top 5 players are Tracy McGrady (Wiggins), Chris Webber (Randle), High BBall IQ Carmelo (Parker), Chris Paul (Smart), and Blake Griffin (Gordon).
(4) Andre Iguodala to Golden State should turn that team from "fun to watch" to a contender. You know I'm an Iggy guy - he may have never won, but he's always overachieved. His defense and leadership could catapult this team (past OKC, LAC, and HOU?).
(3) Social Media and ESPN has made the NBA an absolute juggernaut. The only proof that I need for this is that LeBron James was voted Athlete of the Year by America at last night's ESPYs. Sure, he had an all-time year, but he beat a guy who set the Olympic record for most gold medals, a guy who hit for the first baseball triple crown since 1967, and a guy who fell eight yards short of the NFL's single-season rushing record. Oh and that certain running back played on a limited run-first team and was NINE MONTHS OFF OF AN ACL TEAR!!!! LeBron picked a great time to be in the NBA and Miami at that. Social Media, TV coverage, and brainwashing have made him a powerful guy. Sorry, Michael Phelps - enjoy those medals, bud.
(2) Thank you, Paul Pierce. He never complained. He never asked for more money. He played every game as if it were the last one of his life. And he was loyal to his city and organization, even as he was traded away. The Paul Pierces of the league are a dying breed, but I'm sure glad I got to see this one's career.
(1) Heat over Pacers in 7. Warriors over Thunder in 6. Heat over Warriors in 6. It's early, but never too early.

Check out our other debates below:

Round One (Jordan vs. Everyone) - Round Two (Heat, Celtics, and the PG) - Is The Eastern Conference Weak? - Knicks and Kobe - Dwight Howard to the Rockets