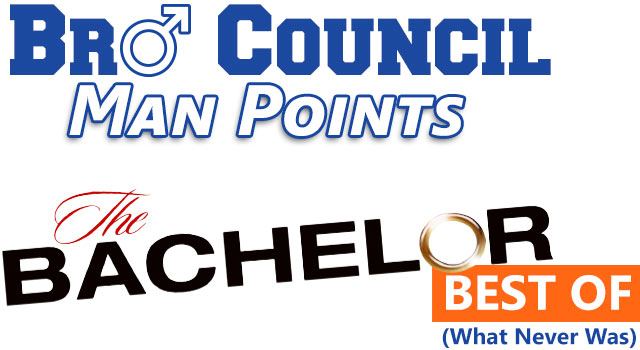 The continuing series commenting on ABC's The Bachelor from a man's point of view. Our own Matt Truck (@BroTruck) watches the show with his wife and awards points based on many factors, all of which test whether or not the act on the show is "Bro Council, Approved." Each positive "manly" act by Sean Lowe (@seanlowe09) gets a +1, while points are deducted for things that aren't as flattering to your manhood. This week, we take a break from the points to take a look at what never aired - but should have.

Whether or not Sean wins The Bachelor crown as Bro Council's manliest of all time and unseats Brad Womack, I have to say that this season was probably the most enjoyable one I've watched. Given that this is our first full season run of the Man Points column, we at least have our new baseline scoring system in Sean Lowe. As a sports fan, I guess this is akin to comparing players in the pre- and post-stats eras: while a fun debate, it's not entirely apples to apples.
The Bachelor gave us some great moments this year. From flannel long-sleeves to consistently unbuttoned top buttons, from barehanded rock climbing to pushups with women on the back, Sean gave us some man moments to remember. Unfortunately, he and the producers left several things off the table that I would have like to seen.
I give you @BroTruck's The Best of What Never Aired (But Should Have).
These shows are huge proponents of the over-the-top dates, but they also like to sprinkle in "real life" scenarios. If that's so, why was there no opportunity for any of these women to make Sean a protein shake? With a commitment to fitness, a guy's got to have a Captain of the Cuisinart by his side through thick shakes and thin. You think Sean wants to step into marital bliss without knowing his beloved can make a good recovery blend? In the words of Ochocinco, "Child, please."
Sean sent home Taryn, a Health Club Manager from Portland in the third rose ceremony. Given that my wife and I are now doing Insanity together, I know the value of a strong workout partner. Nothing says pre-dinner romance like alternating bench presses and partner-assisted sit-ups.
Sean educating the women at the Roller Derby group date about the importance of elbow pad level to gain inside leverage.
An off-camera Brookstone visit while Leslie H. does her shopping spree on Rodeo Drive. Name me one time we men haven't been shopping with our significant other and after the second exhausting store visit we didn't stop by for a free mechanical massage and time spent with products we'll never actually buy or use.
Sean's talking to Chris Harrison and seeing if they can replace the roses in the ceremony with foot-long sandwiches. Since no one's eating on the dinner dates, they have to be hungry, right?
The gag reel where Sean does a slow pose routine from Arnold Schwarzenneger's Pumping Iron on the beach while he awaits the results of the volleyball match.
Sean's dreaded reaction to having to do another scene walking alone and staring off into the distance. I'm all for thinking, but I've never made a great decision ankle deep in water while posing for a hero shot.
While I have no reason to believe that these things did occur, a man has got to have dreams.
Check Out The Previous Recaps Here:

Week One - Week Two - Week Three - Week Four - Week Five - Week Six - Week Seven - Week Eight