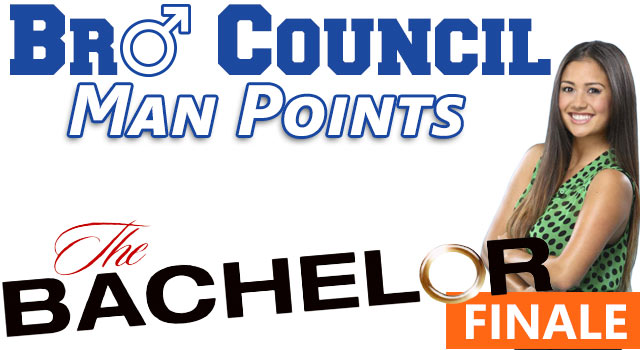 The continuing series commenting on ABC's The Bachelor from a man's point of view. Our own Matt Truck (@BroTruck) watches the show with his wife and awards points based on many factors, all of which test whether or not the act on the show is "Bro Council, Approved." Each positive "manly" act by Sean Lowe (@seanlowe09) gets a +1, while points are deducted for things that aren't as flattering to your manhood.

Since I didn't do an article for the Women Tell All episode, I live tweeted the event and doled out points to Sean for his performance. Here were my takeaways:
• Walking into THAT seems terrifying (+1) – in reference to appearing before a group of women he'd sent home.
• Showing off the 4.64 40 time chasing Des. Showoff. (+1) – in review of Des' time on the show while Sean chases her through a meadow.
• Real honesty....most manly thing to do. (+1) – in telling AshLee he sent her home because he didn't see her as his "best friend".
• Undersized helmet (-1) whilst wearing tank top (+1) – commenting on a clip during the show.
Let's get to the good stuff.
---
The Bachelor Finale
Sean's family comes to Thailand to meet Catherine and Lindsay to help Sean make his decision. In the opening walk through the hotel, we see Sean rolling his suitcase along the walkway, which would be fine if he hadn't already revealed capitalizing on every hidden workout opportunity. America lost one last chance for a bicep curl. (-1).
When Sean's family arrives, we see his niece and nephew run to Uncle Sean and he shows himself to be (a) good with kids and (b) close with his family (+2). Sean's nephew yells out reminding that Emily didn't pick Sean, and he laughs it off like a champ. I've got to respect the self-awareness (+1).
Catherine gets to meet Sean's family first. During that time, we learn that Catherine played middle school football, but we don't learn what position. Given the athleticism shown with the backflip off the boat a few weeks ago, I'm assuming she played either wide out or cornerback. Sean's dad wells up at this.
Lindsay then gets some family time, and Sean's dad steals the show again asking some probing questions and getting down to brass tax with the women who claim to love his son. Sean shows himself to have a great relationship with his dad with a nice manly embrace before the family departs. (+1)
In talking with his mom about the magnitude of the decision, Sean respectfully seeks her advice and support, then comforts her in the midst of tears as she considers the magnitude of the decision. (+1) As a grown man who still gets sad when he sees his mom cry, I can say that tenderness isn't just good for a nice sirloin.
After family time, Lindsay gets her last one on one. Sean appears not even bothering with dressing up, taking it straight to the baby blue tank top with modified boat shoes (Chuck Taylors are the new Sperrys). Fashion gurus, eat your heart out. (+1). Sean and Lindsay then take a nice long boat ride down a river on a covered raft.
I want to throw a shout out to the two fellows who were actually steering the boat, who looked not only confused with why a camera was on their dingy, but also who put up with mushy gushy time for the whole afternoon. The Stoics would have been proud, as these chaps carried out their duty, all while doing it wearing long sleeves. In this scenario I'd undoubtedly be gushing with perspiration, so I give mad props to them.
In the evening portion, Sean and Lindsay light wishing lanterns with words written on them. While romantic, I give Sean credit for sedating his undoubted enthusiasm, because bros love fire. (+1) for staying on task.
Next up is Catherine's one-on-one. Sean appears wearing a plunging v-neck shirt. At this point, I'm fairly certain that the hypothesis has been confirmed that America's Favorite Bachelor has never seen a v-neck t-shirt that he hasn't wanted to give a rose to. Tonight alone, we saw a purple, navy, grey, and salmon in the repertoire. What guy doesn't find one thing he likes with it in the wardrobe and sticks with it? If it ain't broke, don't fix it. If it's not proven, don't wear it (+1).
Catherine and Sean enjoy an afternoon of elephant riding. In the humidity. Under a thick blanket. While undoubtedly a moment to remember, all I could focus on in Sean's' interview was the fact that he was dripping with sweat. This is my absolute worst nightmare. I'm all for cuddle time, but the sheer endurance and will power it takes to romance a lady in sweltering heat is a conquest all men inevitably have to conquer. Well done Sean, wear it proudly. (+2).

The next day comes the infamous Neil Lane diamond selection. Neil explains the rings and diamond cuts to Sean, and Sean does what I did when I bought my ring for my wife: stares at it, twirls it, and nods along happily (+1). Honestly, a guy looking at an engagement ring is kind of equivalent to a woman (or this author) looking under the hood of a sweet new car: looking, nodding, pointing, yet utterly clueless. A word of advice to the future ring buyers out there: make sure to use the uni-focal that they give you to look at the rock. It'll at least make you look like you grasp something.
After Sean picks the ring, it's go time. Sean tears up on screen talking about how emotional all this has been. (+1) for more sensitivity. I once cried watching Dear John and A Walk To Remember, so back off haters. Lindsay gets sent home, but handles it with dignity.
Before Catherine comes, Chris Harrison delivers Sean a letter from Catherine. In the previews, I had just assumed that his tears were due to the note being from the airline that his travel gym had been lost and that the hotel's facility was closed for renovation. I was wrong, and it was Catherine's love declaration on papyrus.
Sean stands waiting by a pond in a full suit at sunset for his proposal to Catherine. A word to the producers: proposal is a nerve-wracking event already with sweat glands activated. An outdoor spot next to a body of water in high humidity does not help the situation. For all future Bachelors' sakes, can't we get the guy a partially indoor location with an overhead fan?
Sean proposes to Catherine with a nice speech (+1). She says yes, and the happy couple rides off into the sunset on an elephant.
So in the end, what we have here is that a Dallas native picks a Seattle girl. I guess true love covers Sean's pain of The Botched Snap playoff game a few years ago. Good for him, because, after all, it's only a game. #perspective (+2).
Sean and Catherine announced after the show that they're going to have their wedding live on ABC. That's exciting. What's even more exciting is that Sean will be hitting the dance floor on Dancing With the Stars. Publicity? Sure. Scary? Definitely. These things aside, it ends up being a perfect opportunity for cross training (+1). You never cease to amaze us, Sean.
Episode Total: +18 ; Season Total: +101
Sean sets the inaugural Bro Council Bachelor Man Points mark of 101 on a strong (no pun intended) showing these last few weeks. Congrats to them both, and thanks for the help in showing that The Bachelor is Bro Council, Approved.
Check Out The Previous Recaps Here:

Week One - Week Two - Week Three - Week Four - Week Five - Week Six - Week Seven - Week Eight